Closures (click here)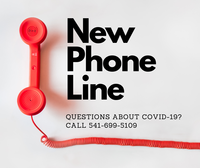 COVID-19 Hotline 541-699-5109
St. Charles Health Systems needs masks

Deschutes County Health Covid-19 Coronavirus

How Are You Doing? by Terry Cowan

How are you weathering the Covid-19 Storm? This is Terry Cowan with some thoughts about the stormy days in which we find ourselves. Here are several helpful things I've heard recently.

Dave Ramsey says "No one makes good decisions when they are panicked." That's true so don't make any financial decisions now that you might later regret....like dumping declining investments which otherwise would be just fine or making major purchases or panic buying of groceries and supplies.

My friend Mike Silva says: "When things happen and you don't know why simply lean into what you know...not what you don't know." In other words, of what can you be certain? At some time in our life most of us have had some kind of adversity...sickness or financial disaster and survived.

In Matthew six Jesus said: "Look at the birds of the air, they do not sow, nor reap nor gather into barns, and yet your heavenly Father feeds them. Are you not worth much more than they? And who of you by being worried can add a single hour to his life?

The Apostle Paul wrote to Timothy: "For this reason I also suffer these things, but I am not ashamed; for I know whom I have believed and I am convinced that He is able to guard what I have entrusted to Him until that day." And Job, who was one of the richest men of his day lost his possessions and his health and when told by his wife to curse God and die replied: "Shall we indeed accept good from God and not accept adversity?

"

Be Still My Soul written by Katharina von Schlegel in the 1700s is an old hymn that probably most of you have never heard. Translated from German the words are:

"Be still, my soul: the Lord is on your side. Bear patiently the cross of grief and pain;

leave to your God to order and provide; in every change God faithful will remain.

Be still, my soul: your best, your heavenly friend---through thorny ways leads to a joyful end.

"

In this time of uncertainty with shortage of goods and services let us reflect upon the prayer Jesus taught his disciples. Pray aloud with me.

"Our Father, who art in heaven, hallowed be thy Name, thy kingdom come, thy will be done, on earth as it is in heaven. Give us this day our daily bread. And forgive us our trespasses, as we forgive those who trespass against us. And lead us not into temptation, but deliver us from evil. For thine is the kingdom, and the power, and the glory, for ever and ever. Amen.

"

I'm Terry Cowan. Together, with God's help we will get through this crisis.

KNLR Commentary

The coronavirus has created a nightmare and bizarre behavior by government and citizens alike. This is Terry Cowan with a KNLR Commentary.

To be sure, the Covid-19 virus is more serious than other common sicknesses and has spread around the world. But the response to this outbreak may have consequences more serious than the virus itself. The response to Covid-19 could have more serious financial and political consequences than the disease. In other words the cure may be more worse than the sickness. Only time will tell.

It is wise and prudent to practice good health and hygiene, and to maintain ample food and household items for any emergency. But there is no need for panic buying, causing runs on groceries and supplies.

There is a tendency for politicians to use a crises for political advantage. And for citizenry to blame the president or congress for lack of action or over re-action. This is not helpful. Ultimately, the confidence and encouragement we need are not going to come from Washington DC or Salem.

As believers we say that "God is in control." It is easy to say that when the coronavirus outbreak is limited to China, Japan or Italy. But when it hits Central Oregon, our neighborhood or our family do we really believe it? Or are we functional deists, believing that God has nothing to do with Covid-19?

The Westminster Confession of Faith (1647) states:

"God from all eternity did by the most wise and holy counsel of his own will, freely and immutably ordain whatsoever comes to pass." He ordained the life of Joseph...and the life, death and resurrection of his own Son, Jesus Christ. God sent Joseph to save the Egyptians and his family from starvation. He sent his Son Jesus Christ into the world to save us from our sins. "For God so loved the world that he gave his only begotten Son, that whoever believes in him shall not perish but have everlasting life." John 3:16.

No amount of toilet paper or food or bottled water stored in closet is going to stop the coronavirus. And while we should do everything possible to save people's lives, we should remember that if we don't die from the coronavirus, something else will eventually take us out of this world. It is not how we die, but how we live, that matters.

KNLR broadcasts in HD (Hybrid Digital).

If you have an HD radio, it will automatically tune to the HD-1 channel and you will hear KNLR in near CD quality. This is especially noticeable in moving vehicles where you sometimes get static, pops and hiss. HD table radios are available in some stores and on line. For more information call us at 541-389-8873.

HD also gives us the ability to broadcast a second channel. KNLR HD-2 is Spanish. If you do not have an HD radio you can also hear the Spanish programming on our translator at 106.1 FM

La Luz Radio

97.5 HD-2 & 106.1 FM

Spanish Christian music and Bible Teaching 24/7

La Luz means The Light. Please let your Spanish speaking friends and neighbors know about this new ministry.

Live on KNLX 104.9 Monday-Friday 11A to 1P
Ministry Partners


Support Pregnancy Resource Centers of Central Oregon.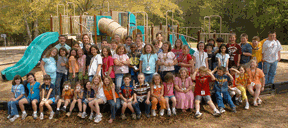 Child Evangelism Fellowship is passionate about sharing the Gospel to children via Good News Clubs. Call your school for more information.